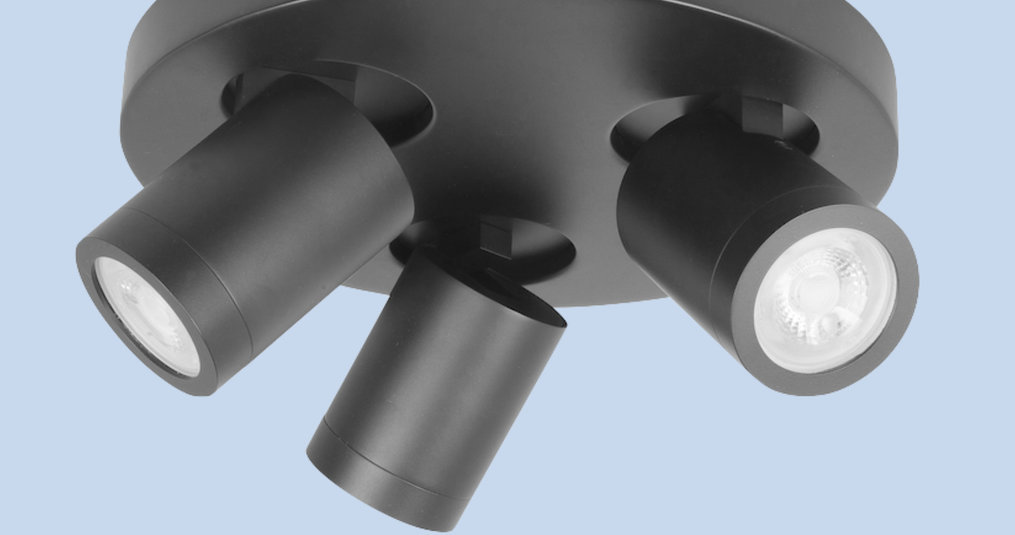 Dit blog gaat over opbouwspot IP44 voor de badkamer.
Opbouwspot IP44 mogen geplaatst worden in de badkamer in zone 2 en 3, ze zijn beschermd tegen  opspattend water. (Meer informatie over de zone indeling en de IP waardes kunt u hier vinden).
Wat is het verschil tussen een gewone spot en een IP44 spot.
Het verschil zit in de afsluiting of water dichtheid van het armatuur. Bij een gewone spot zijn de elektrische delen niet beschermt tegen water. Als deze gebruikt wordt in de badkamer kan er vocht in komen. En als er bij de elektriciteiten kabels en bij de fitting en de lichtbron water komt dan kan hierdoor sluiting ontstaan of als het armatuur niet geaard is, kan er stroom op het armatuur komen te staan! Dit is naartuurlijk niet wenselijk en daarom zijn er IP44 opbouwspot voor de badkamer.
Deze waterdichte spots zijn geheel afgesloten voor indringend vocht. De plafondbak is dicht en vaak afgesloten met een rubber. Ook de spotkop waar de lichtbron in zit moet zijn afgesloten met een afdichtingsring, zodat er geen vocht bij de lichtbron kan komen. Als er zijn zichtbare stroomkabel moeten deze in een bescherming dus zitten, zodat er geen vocht bij kan komen. In de foto's hieronder ziet u een aantal voorbeelden van hoe het moet zijn.
Vaak staat bij de omschrijving van een verlichting armatuur de IP waarde. Let hier dus goed op als u verlichting voor de badkamer gaat bestellen. Ook is het belangrijk om een kwaliteitsproduct te kiezen, omdat in de badkamer veel vocht is kunnen armaturen gaan roesten of oxideren. Het is belangrijk dat de armaturen goed gecoat zijn. 
'Welke kleur badkamerspot is het beste voor mijn badkamer?' is een veelgestelde vraag.
De spot zijn in verschillende kleuren leverbaar en als je veel chroom accenten hebt in de badkamer is het mooi om de verlichting ook in het chroom te doen. Kijk wat goed past bij de rest van de inrichting van de badkamer en pas daar de kleur van de verlichting op aan.
Badkamerspots IP44 met meerdere spot koppen. 
Opbouwspot zijn er in verschillende uitvoeringen. Ook het aantal lichtpunten per spot is verschillend. Een 1-licht spot kun je gebruiken voor het verlichten van een gedeelte van de badkamer. Heb je maar één aansluit punt in het plafond in de badkamer en wil je meerdere plekken in de badkamer verlichten, dan is het handig een twee of drie lichts badkamer opbouwspot IP44 te gebruiken. Hiermee kun je verschillende plekken in de badkamer verlichten.
Heb je meer aansluit punten in het plafond, dan zou je meerdere een of twee lichts kunnen plaatsen. Tel de plekken die je wilt verlichten zoals boven de wasbak en de spiegel (zorg ervoor dat hier genoeg licht is) richting het douche gedeelte enz.
Zijn badkamer opbouwspots dimbaar?
Heeft u spot met een GU10 lamp fitting, dan kunt u hier dimbare GU10 lampen bij kopen. Deze zijn er in verschillende merken en in verschillende uitvoeringen. De dimbaarheid hangt bij een armatuur met GU10 aansluiting dus af van de lampen die u wilt gaan gebruiken. Badkamer armaturen met ingebouwde LED zijn dimbaar als het er vermeld staat. Tegenwoordig zijn deze armaturen prima te dimmen. 
Mocht u nog vragen hebben, dan horen wij het graag en vergeet niet te kijken bij onze uitgebreide collectie badkamer armaturen.